The Roubaix is an RCC classic! For the most up to date information check out the facebook event: https://www.facebook.com/events/1084017139113785/
When: Sunday, April 24th 2022. Sign on 9:00-9:30 am. Roll out/start 10:00 am
Where: River Park Campground, Lumsden, Sask.
Distance: Short race 25km/2 LAPS. Long race 50km/4 LAPS. Men's and Women's category for each race distance.
Route: https://www.strava.com/routes/2924349984870674642. BRAND NEW!!! In the event the dirt route is to muddy to ride, we will have a back up course that will replace this one.
Cost: $50.00. Online registration- https://zone4.ca/reg.asp?id=28511
Other Info:
– Riders will receive the famous GRAVEL t-shirt. Registrations that come in before March 28th will guarantee a t-shirt and size selection as we need to put the order in the last week of March. Any entries after March 28th, size and quantity will be limited and not guaranteed. There is an option in the registration to purchase extra tee shirts for friends and family.
– Hammer Nutrition will be a sponsor for this event, so expect top quality race nutrition at the race.
– Beer and chocolates will be prizes for the top 3 racers in each category. Who doesn't love beer and chocolate?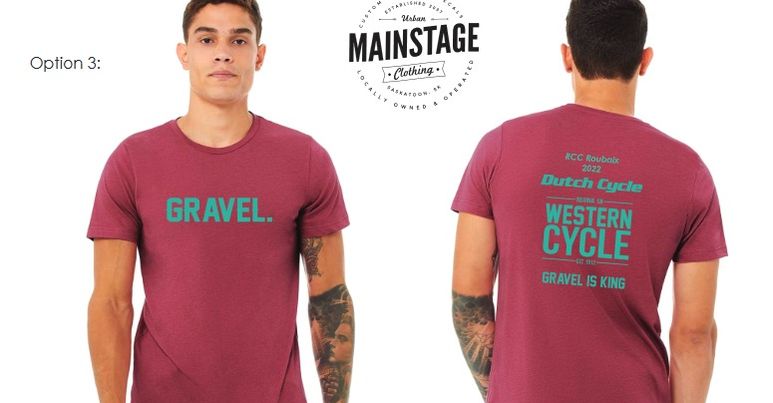 Other info:
– Gravel race is 100% gravel/dirt. NO pavement here. Mountain bikes, Cross bikes, Fat bikes, anything that can handle off road terrain.
-Riders MUST have a SCA License. One-day license can be purchased race day for $20.00.
-Make sure to bring the appropriate equipment for flat tires, bike mechanicals etc.
-Water, Pop, treats will be supplied immediately after the race for a quick sugar boost before enjoying the ride back to the campground.
-Post ride there will be a delicious BBQ food truck for purchase.
Race Directors: Brad Kerr, Stephanie Bank
Please feel free to message us via Facebook Messenger with any additional questions about the event.
The Roubaix
The RCC Roubaix has been a staple in the RCC Gravel calendar with over 10-year history hosting this spring classic. Pioneers of "GRAVEL", RCC started this event years before gravel was cool or gravel specific bikes were even a thing. By staying off the pavement, riding offroad becomes an adventure where google maps is your new best friend to endless possibilities. This year we are featuring a brand-new course. We have used these roads near Disley in past FUNdos. With 114m of climbing per lap, the legs will be screaming!
Parking and start of the neutral roll out. Located directly across the road from the Lumsden RCMP Detachment. Race course is 8km West of Lumsden. Both race distances will ride out to the race course as one group at 10am sharp. When choosing your race distance, be mindful you will adding approx. 25min(8km) prior to the race, and another 25min(8km) ride back to the campground in Lumsden. There will be a spot for riders to drop clothes, bags, food etc. at the start/finish.

For those of you who prefer to drive out to the course start/finish, you must first sign on at the campground before driving out. Parking will be limited. Plan to be ready to ride at the course start/finish at 10:20am.