Tuesday Night is Race Night!
We use a variety of formats and routes, but most Tuesday Night Races are either pursuits or reverse pursuits (fastest group leaves first) that start at Condie Nature Refuge. The 2020 schedule is tentatively set, but routes and meeting time/location will be confirmed via Facebook generally by the Sunday before. Cancellations due to weather on race day will also be posted on Facebook.
Groupings:
Most nights we will spit into smaller groups so everyone gets a fantastic race experience.
Group A: CAT 1/2/3 rider, or substantial racing experience.  Expect very fast racing conditions.  Considered the 'scratch' group.
Group B: CAT 4/5 rider, or moderate racing experience.  Fast racing.
Group C: Masters riders, younger riders, and intermediate riders. This is the next step up from Thursday Adventure Rides.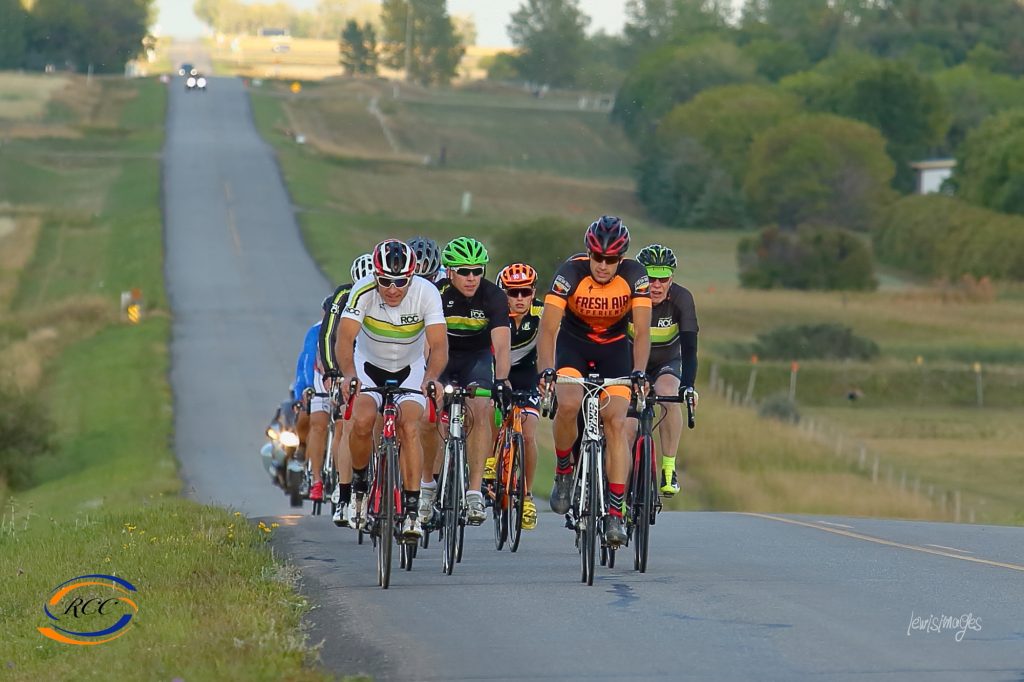 Special Formats:
Team Nights:
Road racing is team racing. RCC has adopted team nights to allow our members a chance to practice team racing strategy and experience the excitement and drama that comes with team racing! On team nights, the race director for the night will divide everyone into teams. Depending on attendance and to keep things fresh, we will mix up the teams and often divide the race into categories to suit attendance (e.g., Elite, Master's, Women's categories).S
Criterium:
Fast laps on a safe, fun circuit.  We are planning a criterium at Conexus Arts Centre and a night at the Kings Park Speedway. Details to come!
Gravel:
Every Third Tuesday of the Month will be a Gravel event – RCC x ORS.  Each Gravel night will also have a Kids Gravel Night as well with a slightly shorter route that the kids can follow.
City Championships:
Same old race, but this time for all the marbles.
Guest Policy
We encourage new riders who want to try a ride to start with our Thursday Adventure Rides. We have a try-a-ride policy, and if you don't already have an SCA membership, the night's ride leader will have a waiver for you to sign.
We also occasionally hold events in conjunction with the other cycling clubs. These nights will be identified on the schedule.